An the the winner is?
The DJI Mavic Pro is lighter, smaller, faster, has a longer flight time, a larger range and is smarter than the GoPro Karma.
The DJI Mavic Pro wins (9 of 12 points) and is the clear winner for this ultraportable drone battle. The GoPro Karma does have a couple of advantages including the ability to remove the camera + stabilizer and use it as a handheld stabilizer (Karma Grip). The Karma also includes a full-fledged controller with a 5 inch display, where the Mavic uses your smartphone as it's display. With a weight of 625g, the question is if the Karma controller is worth the extra weight. The DJI apps are known for their stability and the live-feed might be just as good.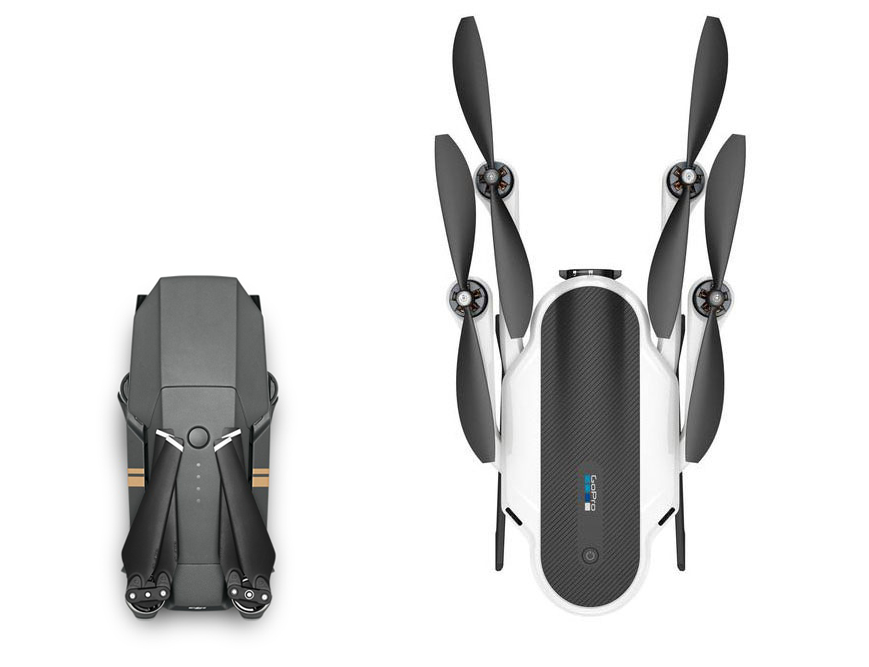 DJI Mavic Pro
Speed 65 km/h

Range 7 km

Altitude 5000 m

Folded dimensions 83 x 83 x 198mm

Weight 734g

Flight time 27 mins

Stabilizer range of motion -90° – +30°

Object tracking: yes

Obstacle avoidance: yes

Wind resistance ?

Handheld stabilizer: no

Remote screen: no
GoPro Karma**
Speed 54 km/h

Range 3 km

Altitude 4500 m

Folded dimensions 365 x 224 x 90 mm

Weight 1781g*

Flight time 20mins

Stabilizer range of motion -90° – 0°

Object tracking: n/a

Obstacle avoidance: n/a

Wind resistance 10 m/s

Handheld stabilizer: Karma Grip

Remote screen 5in, 625g