Swatch Shoot My Ride
PRODUCT DEVELOPMENT
A CONCEPT IS BORN
During my time at MediaMountain (2006 – 2010) I came up with the Share Your Action concept which was later realized as Shoot My Ride for Swatch. I was responsible for design, developement, production and management. In the first year we installed five snow parks and five bike parks throughout the European Alps.
Shoot My Ride enabled participants to produce their own movie and share their action with friends and family. All movies produced were broadcast to participants within 30 sec via a 12 m2 direct viewing screen and published on the Swatch website within 10 mins.
More than 180.000 movies were produced and were watched over a 3 million times on mobile, tablet and desktop!
FESTIVAL OF MEDIA VALENCIA 2009 WINNER
In 2009 MediaMountain was awarded the title OUT-OF-HOME MEDIA OWNER OF THE YEAR  for their  Shoot My Ride campaign for Swatch. Other nominees for this award were internationally established giants Clear Channel en CBS.
Other winners included MTV, Metro International, The Week, Microsoft, Yahoo and BBC Worldwide.
THE SYSTEM
The fully automated system consisted of multiple cameras, screens and servers integrated with the ski resort's Skidata skipass system. A Skidata entry portal at the top of the park would detect skipass of the rider. Then motion detection would trigger the first wide-angle camera which in turn triggered the other cameras. Footage was sent directly to local servers, which combined the footage, added Swatch bumpers and broadcast the finished movie the giant 12 m2 LED screens in the snow park within a minute. Within 10 minutes all movie were available on the Swatch website for download.
The footage was processed locally and distributed online with the help of YoMedia. We partnered with them in the early stages of the concept. They did all the programming and developed the distribution network.
To integrate with the resorts skipass systems we partnered with Skidata. For the Airbags we partnered with BigAirBag.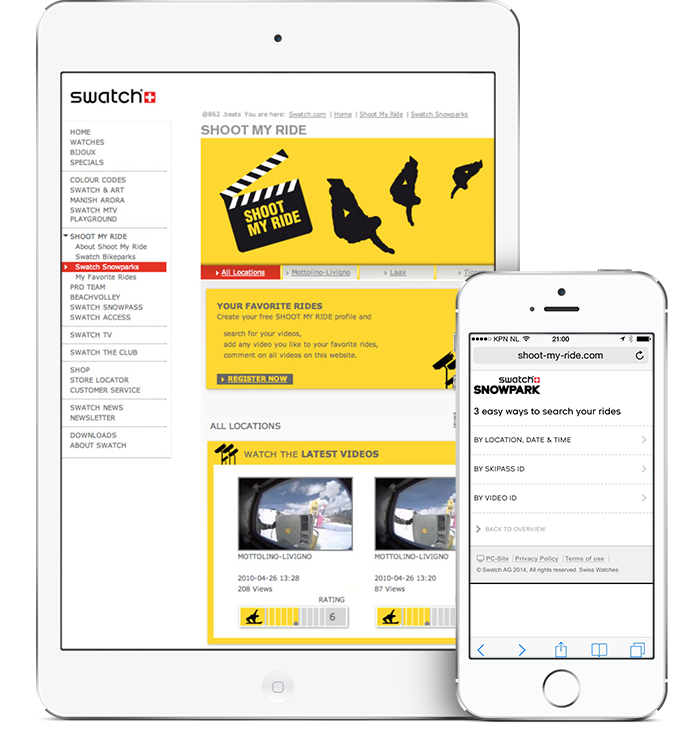 Looking for a creative consultant?